Description
The led emergency driver from OKT Lighting allow LED fixtures to be used as emergency lighting units. They are available in 8w, 12w, 18w, 25w models for MIN 90 minutes in emergency mode and are UL Component Recognized. The emergency led driver range to cover a variety of LED fixtures with external driver. It's used for both normal and emergency operation, switches to the emergency mode after blackout which including a battery,charger and converter circuit in a single can. It is available in different mounting configurations for individual fixture requirements.


Performance Summary

Model Number

EL-0848-XXU
EL-0848-XXG
EL-1248-XXU
EL-1248-XXG
EL-2548-XXU
EL-2548-XXG

Output Power

8 Watts (Max)

8 Watts (Max)

12 Watts (Max)

12 Watts (Max)

25 Watts (Max)

25 Watts (Max)

Input Power

4.8 Watts (Max)

4.8 Watts (Max)

4.8 Watts (Max)

4.8 Watts (Max)

6 Watts (Max)

6 Watts (Max)

Input Voltage

100-277V AC,

50-60HZ

120-250V AC,

50-60HZ

100-277V AC,

50-60HZ

120-250V AC,

50-60HZ

100-277V AC,

50-60HZ

120-250V AC,

50-60HZ

Output Voltage

12V-48V DC

12V-48V DC

12V-48V DC

12V-48V DC

18V-48V DC

18V-48V DC

Emergency Time

90 Minutes

90 Minutes

90 Minutes

90 Minutes

90 Minutes

90 Minutes

Battery

Nickel-Cadmium

Nickel-Cadmium

Nickel-Cadmium

Nickel-Cadmium

Nickel-Cadmium

Nickel-Cadmium

Warranty

5 Years

5 Years

5 Years

5 Years

5 Years

5 Years

UL Component Recognized

E469335
E469335
E469335
E469335
E469335
E469335

Remark:
This item have been upgraded to the second generation( UL listed with field installable) , pls click here for more information.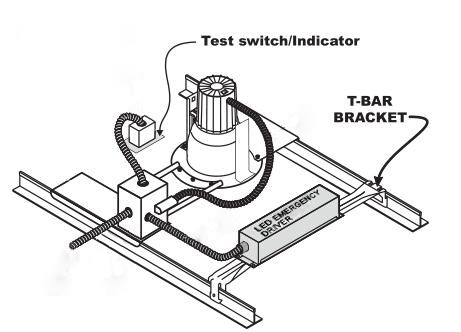 Product Highlights
● UL component recognized
● 90 Minutes operation for battery backup
● Applicable to led luminaire with external driver, such as led downlight, led panel light, led troffer, high bay etc.
● Adjustable input switch to suitable rated voltage of luminaire
● Adopt long life recyclable Ni-Cad battery
● Including test switch and charge indicator accessory kit
● 5 years limited warranty
Need T-Grid Box Hanger For Emergency Backup Please Visit:
T-Grid Box Hanger



FAQS
Q1: Can back up use for all LED products?
A1: Yes, it can be used for almost all LED products.

Q2: How long can the back up work?
A2: The back up can supply power 90 mins at least.

Q3: How can the back up connect to LED products?
A3: As for installation, pls check installation guides.

Q4: What led lights can work with your emergency backup?
A4: OKT emergency backup can work with both internal driver and external driver led lights.

Q5: Do we need open a new UL file No. for the co listing of the Emergency backup?
A5: Yes, if you do not do co listing of EM backup before, you need set up a new UL file No..

Q6: What do you mean by 'high voltage EM backup' and 'low voltage EM backup'?
A6: High voltage EM backup means the EM backup is for LED Lighting with internal driver; Low voltage EM backup means the EM backup is for LED Lighting with external driver.

Q7: Can your emergency backup work with led tubes?
A7: Yes, our emergency backup can work with most led lights. For led tubes you should choose our high voltage ones.


Q8: Is your emergency backup is UL recognized or listed?
A8: It is recognized.

Q9: Is your emergency LED driver is FTBR or FTBR2 UL approved?
A9: It is FTBR2.

Q10: Can you install your emergency battery backup on your led panel lights?
A10: Yes, we can install the backup well when we deliver to our customer.

Q11: Is it possible to print our company logo on your emergency battery backup? If so, how can i proceed?
A11: When the order quantity is above 500pcs, customer can consider the UL multiple list, then we can print customer's company logo on the products.

Q12: Is it dangerous of your emergency battery backup during the transportation?
A12: Our emergency battery backup is very safe during the transportation.

Q13: Is it complicated to install the emergency battery backup with led panel lights?
A13: The installation should be performed by the qualifed electrician, what's more, customers can watch the video on Youtube.