Power over Ethernet (POE) is a networking feature that lets network cables carry electrical power over an existing data connection with a single Cat5e/Cat6 ethernet cable.
PoE technology relies on the IEEE 802.3af and 802.3at standards, which are set by the Institute of Electrical and Electronics Engineers and govern how networking equipment should operate in order to promote interoperability between devices.

PoE-capable devices can be power sourcing equipment (PSE), powered devices (PDs), or sometimes both. The device that transmits power is a PSE, while the device that is powered is a PD. Most PSEs are either network switches or PoE injectors intended for use with non-PoE switches.
Common examples of PDs include VoIP phones, wireless access points, and IP cameras.
What is PoE lighting?
PoE lighting is a low power, high performance LED lighting network technology comprised of fixtures and sensors, and is managed remotely using intelligent control system. The control module communicates data signals and power over twisted pair cable.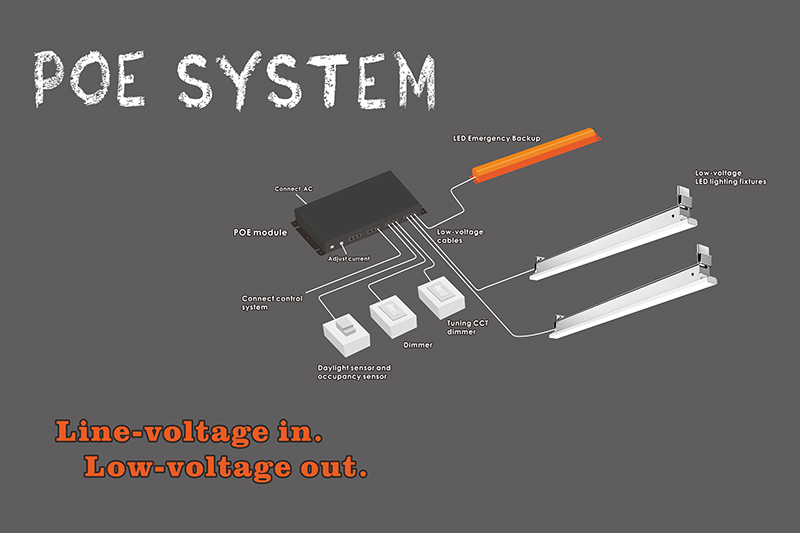 What are PoE lighting systems?
PoE lighting systems are networks consisting of PoE switches, lighting controls, sensors, and LEDs connected to LANs over twisted pair cables. Lighting controls allow end users to mirror the features of daylight to promote health, productivity, and collaboration using a broad spectrum of visual frequencies.
Data may be collected from motion sensors, allowing organizations to better monitor and control energy consumption. Individuals and organizations are leveraging these benefits in homes, work environments, academic and hospitality settings, and especially in medical treatment facilities.
What are the benefits of PoE?
PoE benefits organizations in 5 primary ways—reduced installation costs, installation safety, responsive deployments, data-gathering capabilities, and productivity enhancements. End users can plug PoE capable devices into existing networks or start from scratch with ease.
OKT now has developing the POE System, and will coming soon.
For now, we have some product that can be used for the POE system, like our T-grid LED Linear Light Fixtures with 24V DC input.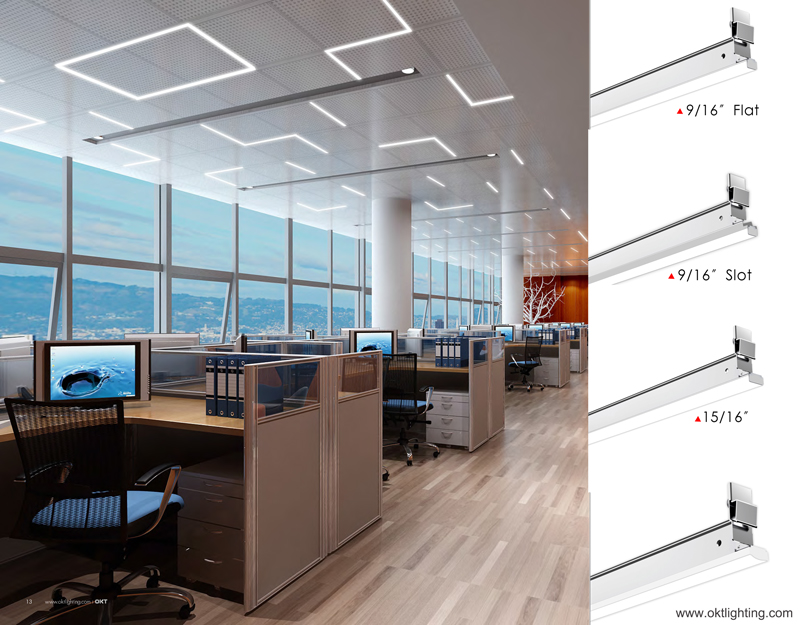 This linear lighting fixture has US PATENT. It is the newest solutions that you can replace a 2ft or 4ft member of the ceiling suspension system, , allow to be seamlessly integrated or retrofit into standard 15/16" or 9/16" T-Grid of suspended ceiling, making the linear lighting to become a part of the t-grid ceiling assembly. It is not just reducing building materials, labor and waste, but create more elegant and clean atmosphere for your space.
Any more detail, please click www.oktlighting.com